Tango is also special not only because of her spectacular deep blue eyes, but also because she is a lilac and a chocolate carrier-she produced her first lilac for us, in May, 2004. The kitten a female, was pointed with royal blue eyes. Very rare and beautiful colors! I am pleased to welcome her after many months of anticipating her arrival. We adore her happy and affectionate nature!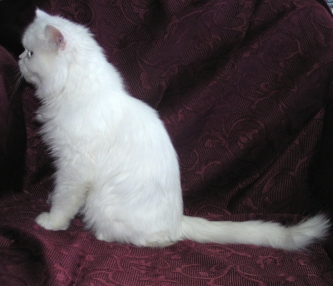 More pictures of Tango to Evora coming soon!
Check back for updated photo's of Tango to Evora, as she is looking prettier every day!! Her temperment is sweet and loving. Tango is also quite the conversationalist! Tango loves kittens and loves to play with them whenever she can, always gentle, we are sure Tango will be a fantastic mother.