Intoducing our TJ Purrs Ladies!!


THE FOLLOWING CATS WILL SOON BE AVAILABLE AS BREEDERS:
Jazz Dark Blue eye carrier. ELH agouti for chinchilla golden
Juliette Dark Blue eye carrier ELH
Ceyane (cannelle)nice breeder because gives show qulity with the right male, she is pure persian. We are working with the finest lines we could get. Our star girl is My Lazyk's Daisy Mae from Lazy K in brooks,AB. Her father is 2nd Best Himalayan in the North West Region,for 2001


TRIPLE GRAND CHAMPION CAREYATA'S INJN JOE OF LAZY K.


Her mother is CAREYATA'S HARMONY OF LAZYK. Harmony is one kitten away from being a recognized DM. A DM is a female that has produced 5 or more gr. champions! Daisy's pedigree is to die for, with 5 DM's in 3 generations, and we are happy that she is part of the family!!


Click Daisy's picture to visit her photo album!




Special thanks to our friend CHRIS at LazyK for contributing this picture!

Here is Tango to Evora! Also from LazyK Our Deep Blue eyed white girl, she has the MOST beautiful dark blue eyes I have ever seen, Lovely DEEP Ocean blue, and we will hopefully maintain this color in our pointed kitties and produce rare and unforgetable deep blue eyed white little babies!! her coat is beautiful and sooo magnificent and long now that she is one year old. I think she has the very best coat of any persian cat I have ever had. She holds her tail up, and the hair falls so gracefully to the floor!! Tango has so many great qualities that she is a gem for our program. Being a lilac and chocolate carrier is just a welcomed bonus!!

Click on the picture to visit her photo album!!! In her album her picture shows her shaved! I can't wait to put up a recent photo of this beauty queen!!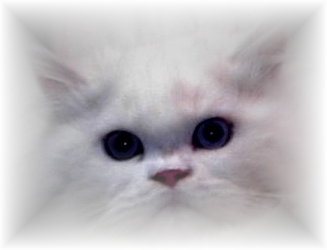 We are pleased to introduce Jazz, our newest female. She is a CHINCHILLA SILVER Persian carrying golden and dark blue eyes.




We have also aquired Ceyane. She is pure Persian, so we won't be getting any pointed from her, but her kittens will cary the pointed gene.




We are Pleased to add Kira to our cattery. Her beautiful colors are blended very nicely, with a striking cream blaze split on her face right down her nose.


Juliette is a shaded silver exotic LH persian, she doesn't produce very many kittens, but she is a good mom, and her kittens are very pretty. She will be available for adoption as a breeder or pet after this litter. She carries deep blue eyes.(she is bred with Romeo)



Breeders this is just for you, stop in and visit our Breeding Charts!!
ALL CATS IN OUR PROGRAM ARE SHOWCASED ON THIS WEBSITE.