Shhhhh Babies asleep!!




We only have this beautiful little flame point female from Daisy and Winston, her name is Winter Breeze. Her nose has come up a great deal since this picture, new picture soon. And she should champion within a reasonable number of shows.

(Breezie)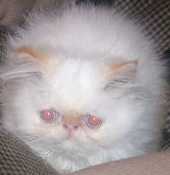 Thank you!!

If you are interested in one of our kittens, please take a few moments and fill out our
Questionaire
We will be keeping a beautiful little flame point female from Daisy and Winston, her name is Winter Breeze.
(Breezie)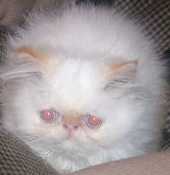 FAQ
Q: How is Quality determined A: Tj purrs determines quality on the following factors.
Top show quality: A kitten/cat that we deem may with proper care and grooming may become a grand champion, regional winner or a DM, is deemed as a top show quality cat.
Show quality: A kitten or a cat that may with proper care and grooming become a champion within a resonable number of shows.
Low show quality: a kitten/cat that can champion with a little more effort.
Breeder quality: A cat that shows no major genetic flaws however is not neccessarily show quality, but should improve a breeding program.
Any cat used for breeding should have a pedigree behind it that with the right female could produce Show Quality kittens, or improve the quality of an already existing line.

Pet quality: These cats and kittens do not represent a quality that improves upon the breed.
Most catteries will sell any pet quality kittens with a strict spay/nueter contract and registration papers deemed. "not for showing, not for breeding".

These animals make lovely pets and companions, and are ideal for individuals not wanting a "show cat"
Q:Where will you ship to?

A: We will ship anywhere in Canada and USA only when weather is permitting.
We ship outside of Ontario only if references can be provided by the potential owner
Q:What makes you a knowledgable breeder?
A: I have many years of study behind me in genetics, as well as animal health and behavior.
I also have a diploma in Animal Science achieving Highest Honors.
I always make myself available to mentor those "just starting out",
and I have built alot of new and close friendships this way.
NOTE: WE DO NOT GAURANTEE THAT YOUR KITTEN WILL SUCCEED TO THE LEVELS POSSIBLE AS THERE ARE FACTORS INVOLVED SUCH AS PROPER GROOMING, DENTAL CARE,ETC.
WE USE OUR BEST JUDGEMENT TO DETERMINE QUALITY AS WELL AS CONFER WITH OTHER BREEDERS AS NECESARY TO BE AS ACCURATE AS POSSIBLE.
Q:At what age can I bring my new kitten home?
A: Usually your kitten can go home with you when it is eight weeks old.
When our vet determines that it is in the best interest of the kitten it will remain with us until 12 weeks of age.






Email us to inquire about our babies.

Website designed by:
Tj Purrs
All content and images for the enjoyment of this site only.
Thank you!
© 2003