Intoducing our TJ Purrs Kings!!




We are honored to be owned by CH Furpleasures Lucky Alberta Bound (we will refer to him as Motzart). It was important for us to change our male, as much as we love Winston, we also constantly strive to improve upon our Tj Purrs line whenever the opportunity to improve presents itself. This change in our program allows us to keep a female kitten from Daisy, and with luck broaden our show quality lines to produce the finest cats with what I consider to be, some of the very best bloodlines available.!! Motzart has proven himself to be of a wonderful and cheerful nature, and he has learned that my lap is always available to him. He loves to snuggle and kiss and has a very endearing temperment- this is important to me, as I do not believe in reproducing animals that are not affectionate by nature. Motzart is also a lilac carrier.


SO welcome to your new home Motzart!!

Introducing our CH Motzart!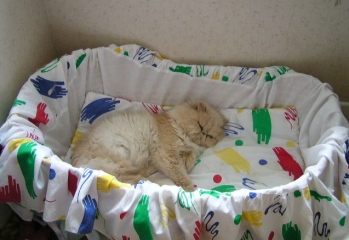 For your convenience pictures of Winston will remain online until all of his kittens have new homes.

Winston is no longer a part of our breeding program, due to the opportunity to improve upon our already great blood lines. We are still very excited about his upcoming litter with Daisy! This big guy is a very active and very beautiful flame point boy. Winston is cudly and enjoys a warm bed to sleep on, curled up with his favorite person! Winnie is a lilac and chocolate carrier, so this makes him a lovely boy for our program, not to mention that his sire is a Double Grand Champion, so he carries the genes we need!!!
Winnie is not show quality kitty,but his personality makes him a winner to me,with his pedigree his kittens with Daisy should be magnificent!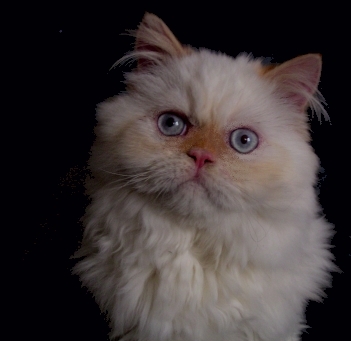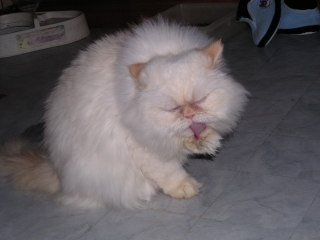 Romeo (silver tabby) Has now been placed in his loving forever pet home, for your convenience his photos will remain online until all of his kittens are adopted! Notice his awesome ruff around his neck, and his amazing tail, although his eyes look copper in this picture they are infact, a lovelly forest green. Romeo carries the himalayan gene from his father, a blue pt. named Pete.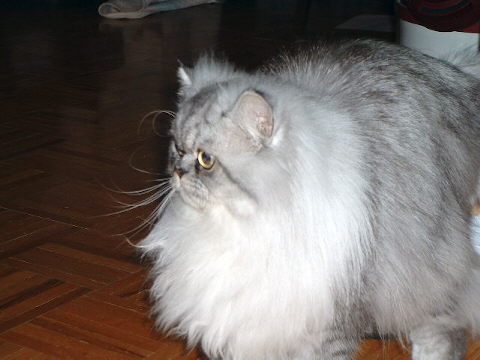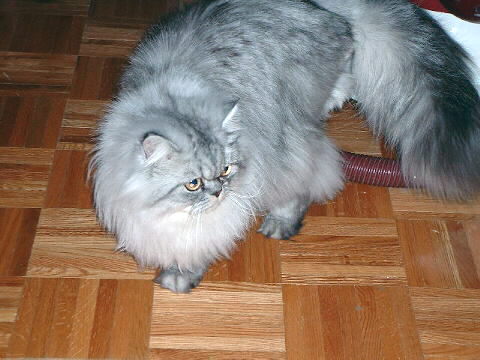 Meastro is now loved by Gord in Rockland.